We have made over 500 hearts so far!!!





Over 300 have been turned into pillows and delivered to the donor network. Thanks for all of your support so far. And please consider coming to help finish blocks into pillows. We need help sewing, pressing and maybe cutting. We would appreciate any help we can get!



August 1, 2018 marks 2.5 years since Elayne's transplant.


We are so thankful to everyone who made it possible for her to be with us today, and that includes ALL of you.
We'd like to invite you to our Heart Charity Sewing Days to acknowledge the miraculous gift that organ donation gives.


To say "thank you from the bottom of our hearts," we'll be offering:
¨ A free heart pattern "Rachael's Heart" Click here to download your copy
¨ Fun and friendship working on a group sewing project making heart-themed quilt blocks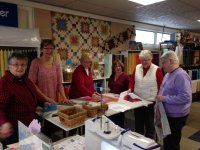 ¨ A chance to thank donor families and raise awareness for organ donation.

Come to one or more sewing parties. If you don't sew, you can come and help cut or iron.

Watch our calendar of up coming sewing days. We will be assembling the hearts into pillow covers. Sew all day or just for a little while.

There is no time limit on making hearts. The project is on going.

During the event, use our machines, thread, and fabric to make heart-themed quilt blocks. Most will be made into pillow covers and given to families who have lost a loved one and donated life to another. They will be "memory gifts" for donor families, including the donor family who made the gift of Elayne's heart. Other quilt blocks may travel with the Wisconsin Donor Network and Tissue Bank to raise awareness about organ donation or used for fundraising for other donor or transplant events.

The event is FREE, but please call (920) 892-4751 so we know how many to plan for. If you can't make it but still want to contribute, you can stop in and pick up a fabric kit or download our free heart pattern "Rachael's Heart" at www.sewingbasket.biz and make your block (or blocks) at home. This can be a great stash buster or fun group sewing event for you and your friends. Please mail completed blocks to:

The Sewing Basket
426 E. Mill Street
Plymouth, WI 53073

Post a picture of your block, you or your friends sewing hearts on our Facebook page and share the love.

Thank you from the bottom of our heart!!!