---
February 1st is the "one-year anniversary" of Elayne's heart transplant.
We are so thankful to everyone who made it possible for her to be with us today, and that includes ALL of you.
We'd like to invite you to our Heart Parties to acknowledge the miraculous gift that organ donation gives.


To say "thank you from the bottom of our hearts," we'll be offering:
¨ Refreshments
¨ A free heart pattern "THE GIFT"

¨ Fun and friendship working on a group sewing project making heart-themed quilt blocks
¨ A chance to thank donor families and raise awareness for organ donation.

Come to one or more sewing parties. Sew all day or just for a little while (10am-4pm). If you don't sew, you can come and help cut or iron.

During the event, use our machines, thread, and fabric to make heart-themed quilt blocks. Most will be made into pillow covers and given to families who have lost a loved one and donated life to another. They will be "memory gifts" for donor families, including the donor family who made the gift of Elayne's heart. Other quilt blocks may travel with the Wisconsin Donor Network and Tissue Bank to raise awareness about organ donation.
Again, come to one or more Heart Parties — the event is FREE, but please call (920) 892-4751 so we know how many to plan for. If you can't make it but still want to contribute, you can stop in and pick up a fabric kit or download our free heart pattern" THE GIFT" at www.sewingbasket.biz and make your block (or blocks) at home. This can be a great stash buster or fun group sewing event for you and your friends. Please mail completed blocks to:

The Sewing Basket
426 E. Mill Street
Plymouth, WI 53073

Post a picture of your block, you or your friends sewing hearts on our Facebook page and share the love.

Thank you from the bottom of our heart!!!
A New Year . . . A New Look!
We were busy over the holiday rearranging the shop. Come and see what's new.

A New Year. . . Deserves a new project.
Garden Party Applique Quilt
60 x 80
A layer cake of Dreamscape fabrics, plus an assortment of Kaffe Fasset prints puts the party in this garden.
The picture below shows the quilt "UNDER CONSTRUCTION".
There are a total of 12 blocks that will have sashing in between.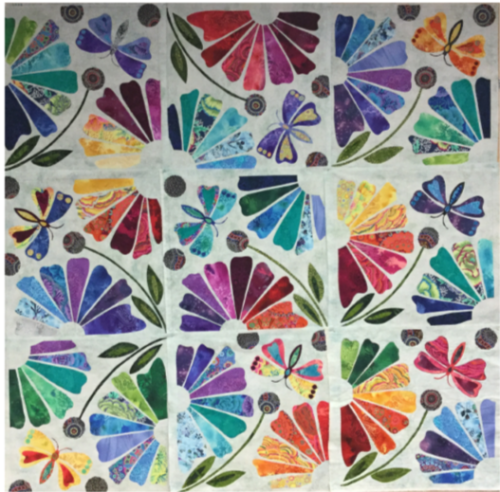 Attend our Garden Parties!
We've set aside 3 full days for you to work on your garden and watch it bloom into a beautiful quilt just in time for spring. This class is multi-part. There will be a "lesson" at 10 am and 1 pm each day. You can leave at 2:00 or stay for the "party" and work on your project until 7:00. Bring food or we'll order out.
This is a fusible machine applique' project that will be put together in a "Quilt as you Go" method. Each 20" block will be quilted before the project is assembled.
March 7th 10am-2pm then open sew until 7pm
March 21st 10am-7pm then open sew until 7pm
April 4th10am-7pm then open sew until 7pm
May 9th10am-1am Show and Tell
Kit Available